Southport Old Links Golf Club's Professional Shop is run in partnership with Southport Golf Academy (SGA). For those that do not know SGA, their background and business is about introducing people of all ages to the game and within their operation are full facilities just 10 minutes down the road from ourselves – a floodlit and covered driving range; indoor performance centre used for coaching, club fitting and course simulation; a distance calibrated short game area, large putting green and handicap qualifying length Academy course.
Our New Shop will be open 6 days a week with just monday being closed. Although the Shop will also be open on all days when there is an event or a large Competition as well. The standard timetable for hours when the shop will definitely be Open for the time being are: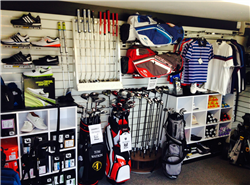 Winter Hours currently in operation:
Friday - 9.00am - 12.00pm

Saturday - 8.00am - 12.00pm

Sunday - 7.00am until 3.00pm

Monday - Closed

Tuesday - 9.00am - 12.00pm

Wednesday - 9.00am - 12:00pm

Thursday - 9.00am - 12.00pm

James Carpenter PGA Professional
James.
Ritchie Benyon PGA Professional
Ritchie
Peter Allison
Peter

Richard Carpenter - Marketing Director
Richard
Gail Carpenter - CEO

The Pro Shop is stocked with items such as:
Clothing
Equipment
Golf Clubs
Trolleys
Accessories
Should there be anything specific people would like, then thanks to the shops link to Foremost - Pro Shop buying group, it can be sourced in a very short space of time and at great value pricing.